About Us
Welcome to East Bay Realty - your gateway to the home or land you seek in South Western Nova Scotia and your link to buyers relocating to this province's beautiful south shore.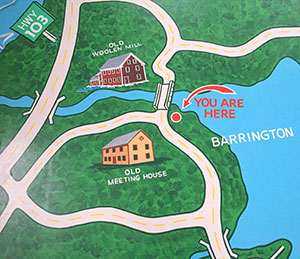 Visit East Bay Realty's home office in Barrington, also known as "the kiosk" with its amazing painted floor, and discover a truly unique experience in real estate sales. We put you first. Our thoughtful and motivated sales team is one you can rely on to give solid advice based upon years of experience. Our main concern is discovering your ideal property and linking the right buyer to the best seller.
First established in 2000, East Bay was founded to serve South Western Nova Scotia. Over the years, we have combined our distinctive and personal blend of local expertise and impeccable ethics with the ultimate goal of providing the best possible service to you - our clients.
So, no matter what your need - buying or selling, remote or central, ocean view or waterfront, lake or river, don't hesitate to contact us.